The gradual transition from flint ignition to a self- contained primer during the first few decades of the 19th Century was seen by many as a great improvement, but it did also create a few new difficulties for the sportsman in the field. A fresh primer was required for each shot and these needed to be carried and stored in an accessible manor for cold wet hands to retrieve and then place in the lock or on the nipple.
Early primers ranged from pellets to pills to tubes which eventually became percussion caps in a variety of sizes. Quite quickly a demand was created for some sort of magazine to hold a quantity of primers and to dispense individual primers. The well regarded London gunmaker Charles Moore manufactured a range of pistols and long guns using a pill lock based on Westley Richards patent no 4611 of 1821 and also marketed a copper magazine and dispenser for use with his guns. These dispensers consisted of a slim magazine with a spring loaded ratchet dispenser. Each tool is serial numbered and these numbers seem to relate solely to the dispenser and don't match any of the guns with which they are cased.
Thomas Sutton of 58 Berwick St, Soho London who was an early gun implement and flask manufacturer produced a magazine and dispenser for pills or pellets which presumably was not specific to a particular gunmaker but suitable for any maker's guns which used a similar pellet. It looks to date from the 1820's and again operates on a ratchet and spring mechanism but has more storage capacity than the Moore tool.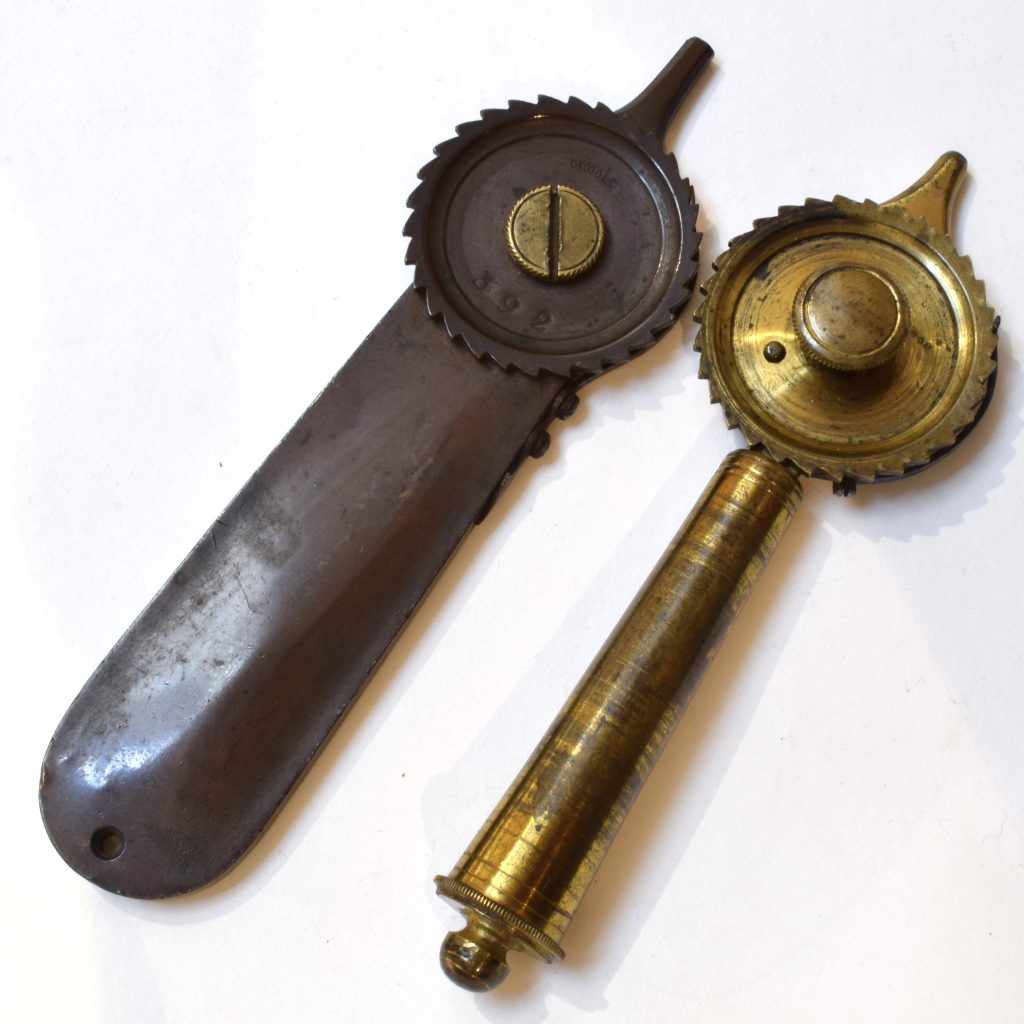 Joseph and John Manton often supplied their early tube lock guns with a steel ring carrying individual holders for tubes which was later adapted for percussion caps. The problem with these was that they were simply a carrier rather than a dispenser of the cap straight onto the nipple.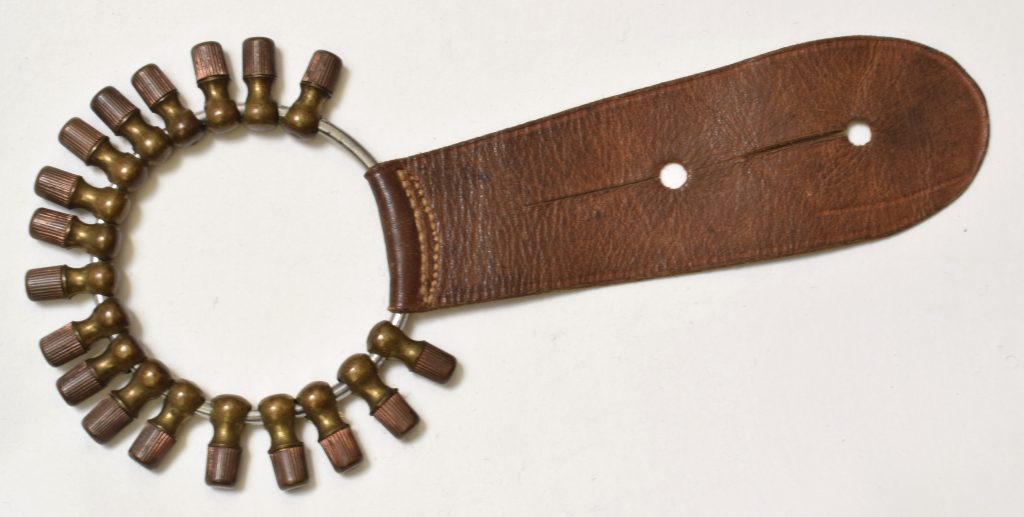 With the subsequent standardisation of the shape (if not the size) of the percussion cap into the form that we currently use, a wide variety of percussion cap dispensers were produced by the already established gun implement and flask manufacturers in a range of styles, shapes, sizes and materials which now form a rich collecting field. These cappers all allowed the shooter to simply push the capper onto the nipple and pull it away leaving a percussion cap on the nipple ready to fire.
The most basic is a gravity fed capper with a spring and button at the mouth preventing the caps from all falling out through the dispensing opening. James Dixon manufactured this model in a curved and straight version with or without an attached nipple primer. One example is marked "registered design April 20 1846" giving us a clue as to the date this design was first produced.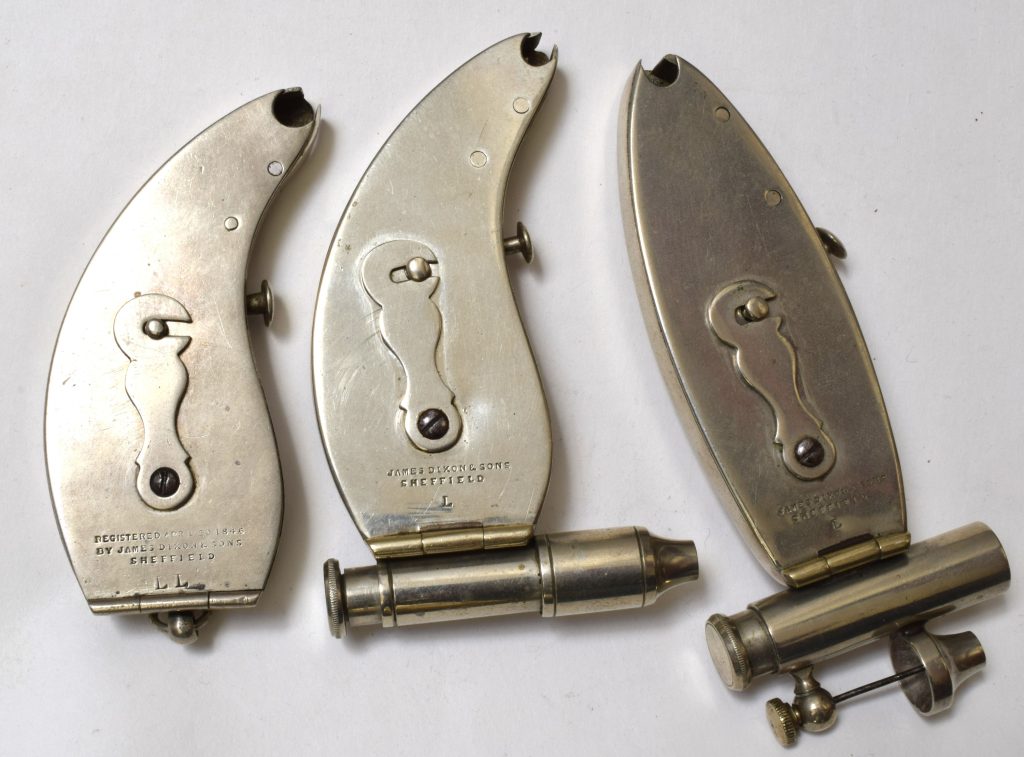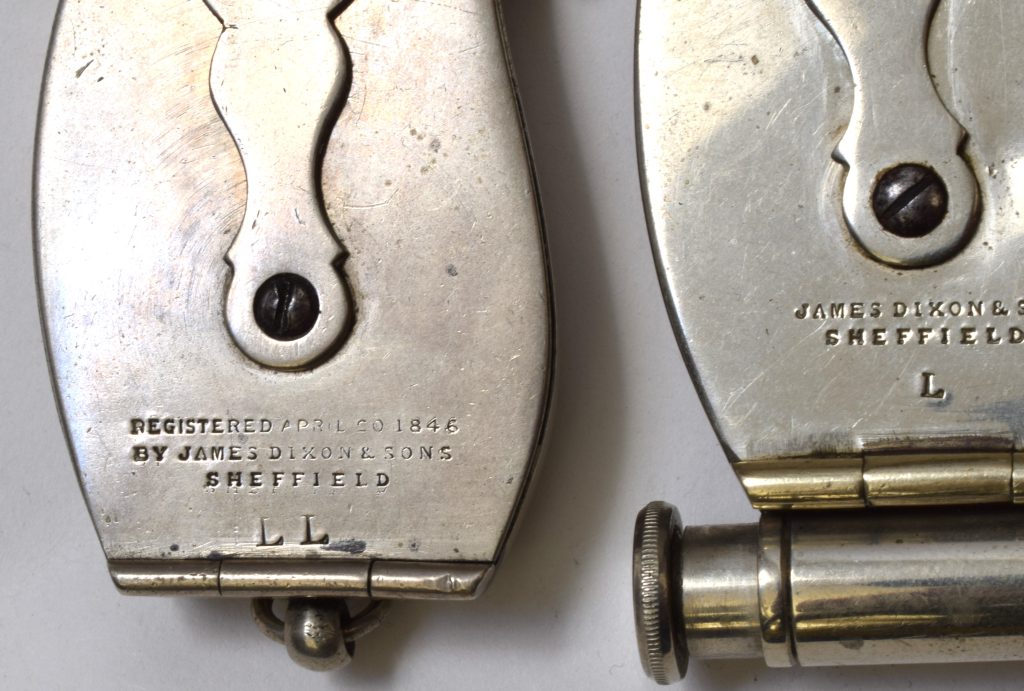 Another fairly basis and cheap pattern was the bar capper which was made as a single or double utilising a coil spring and was filled in the same aperture from which it dispensed. These are often marked with the big Sheffield gun implement makers names; James Dixon & Sons, Sykes and Hawksley. There is also an example marked with the percussion cap manufacturers name F. Joyce London and I wonder if this was a promotional item given by them to regular or favoured customers.

An interesting and quite rare variation is a steel bar capper with a slightly curved lever at one end. This was produced for use with a percussion walking stick gun and the lever was used to cock the firing mechanism on the stick.

Probably the pattern of cap dispenser most often encountered is the circular capper with an internal central flat coiled watch type spring operating a "pusher" which maintains tension and pushes the caps around a track to the mouth of the capper where they are retained by one or sometimes two external springs. This was produced by all the gun implement makers in a wide variety of shapes, patterns and sizes.
The most common circular capper is brass with a short nose and a single external retaining spring at the mouth and made in brass. A slightly more expensive version was available with a double retaining spring at the mouth and then an even better model with a long nose enabling it easier access to the nipples of a double gun.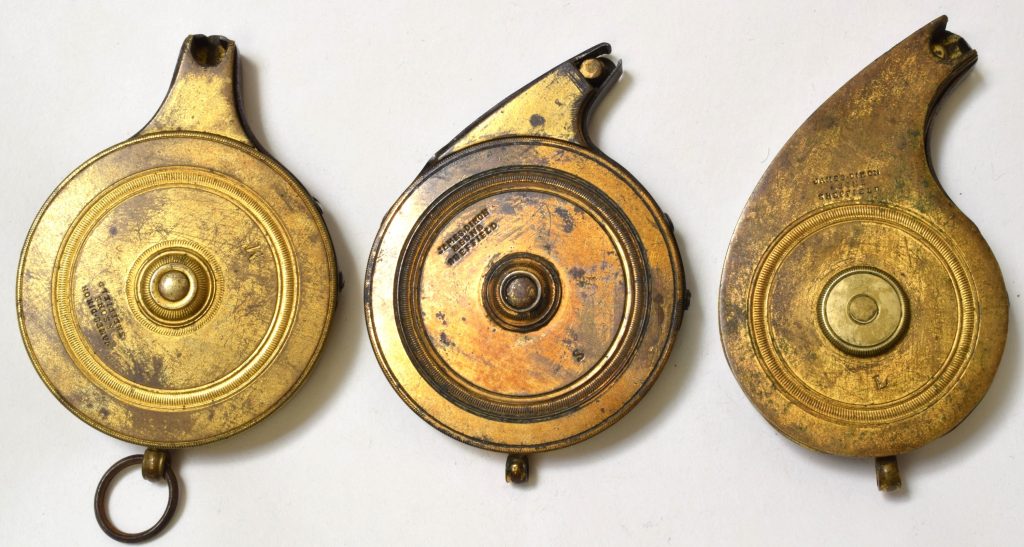 For the more well-heeled sportsman a nickel silver version was available at an extra 20% cost . This was described in the catalogues as "British Plate" although the tools were made from solid nickel silver rather than plated.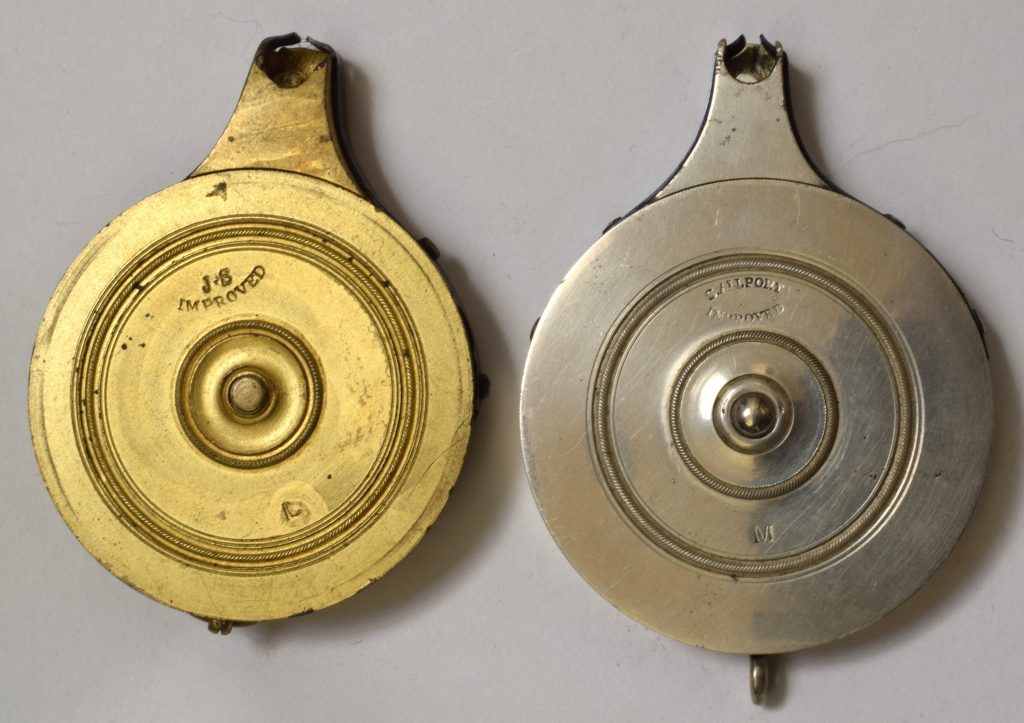 At an even greater cost these nickel cappers could be purchased with an added nipple primer or in later years a game counter, but these are pretty rare so probably were not too popular at the time.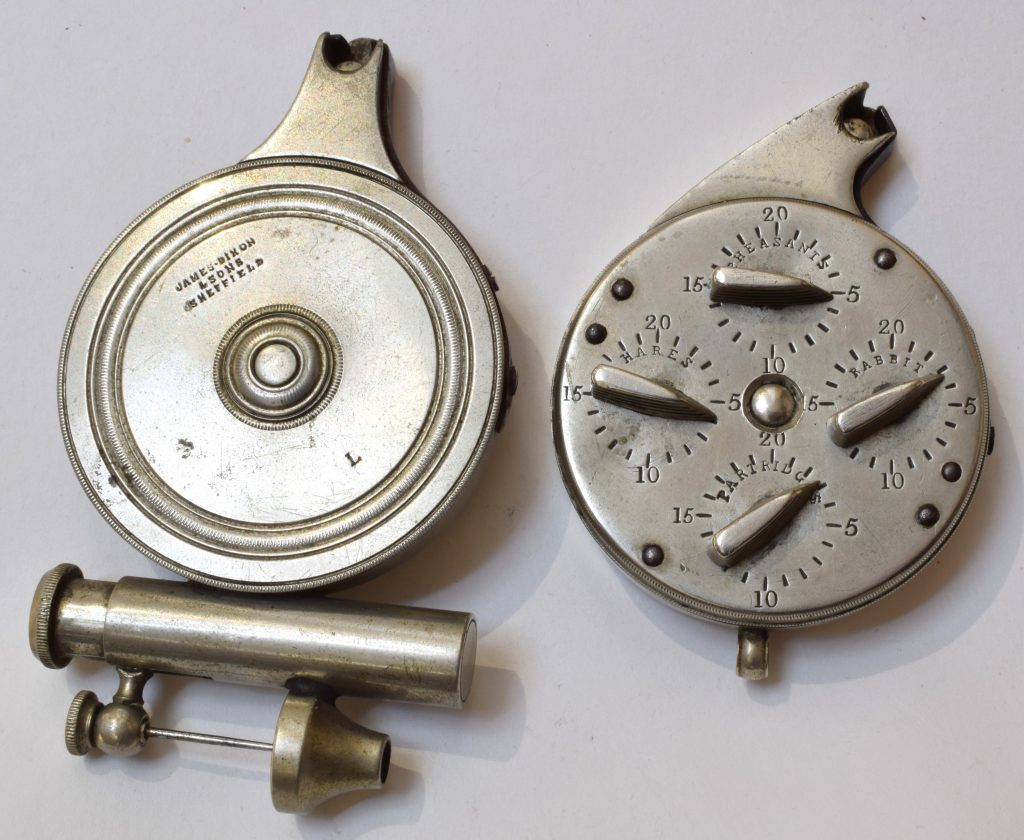 Although the percussion cap manufacturers all used their own numeric sizing system for caps, I have only seen dispensers marked "S" "M" and "L" so presumably there was a lot of leeway in the actual size of caps a dispenser could operate with.
Very occasionally you encounter a more deluxe decorated version. I have come across two: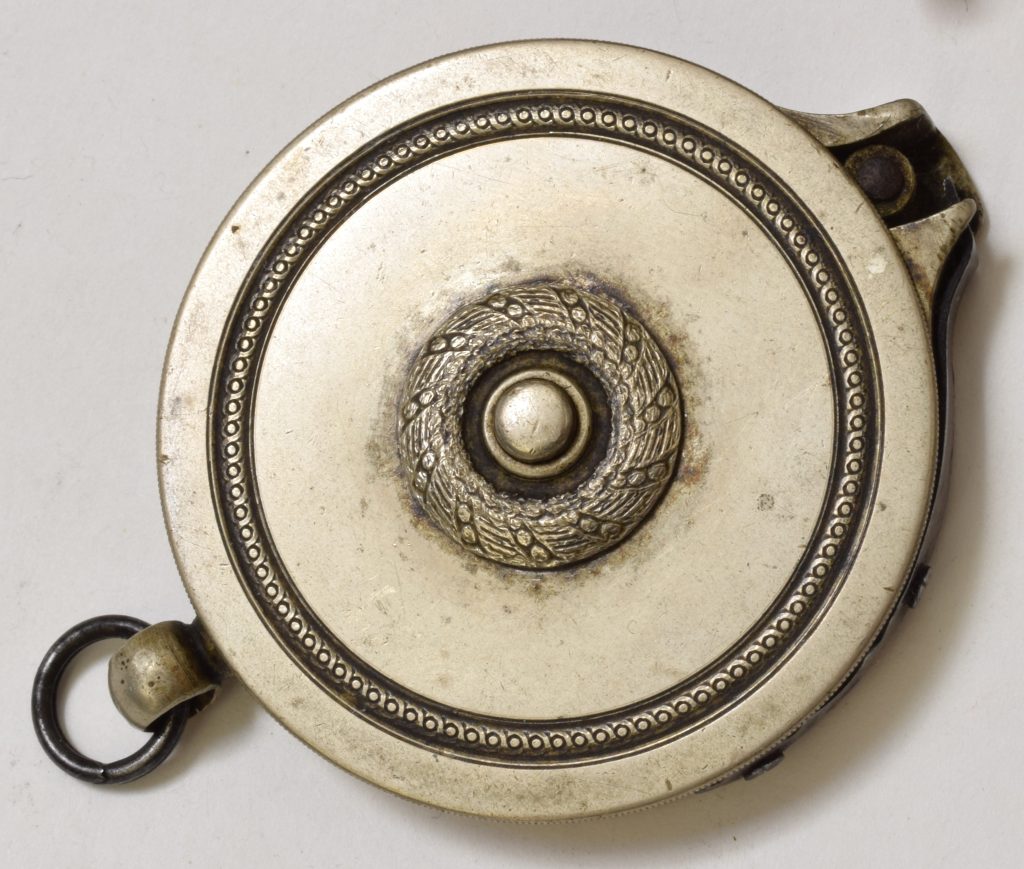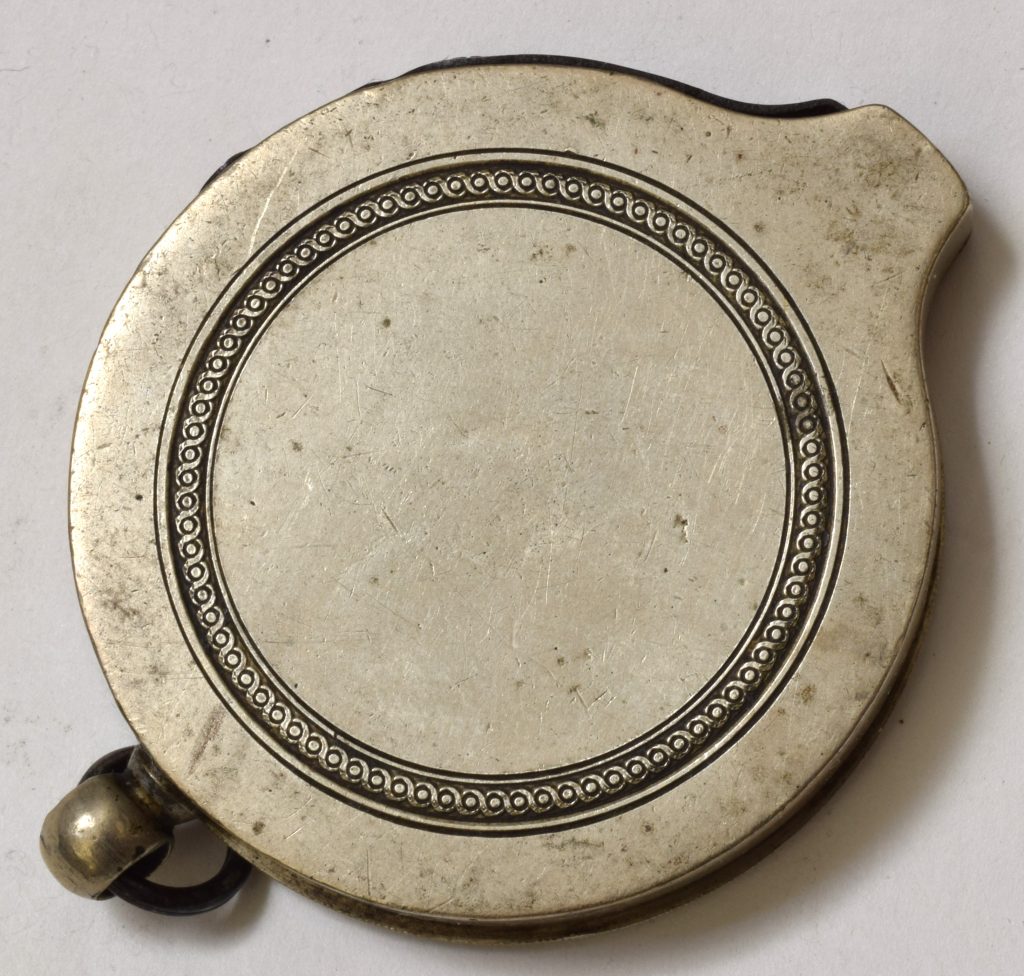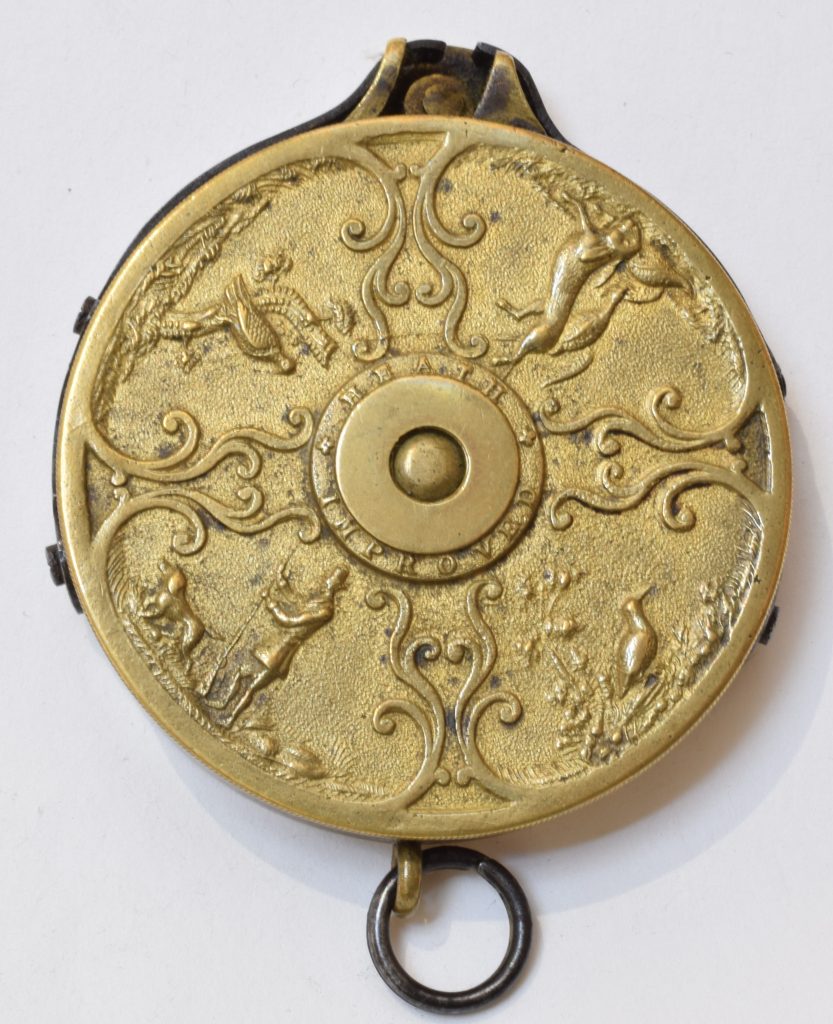 Most of the cappers described so far were probably intended for use with long arms, but I have come across two small cappers by Thomas Sykes that were probably only intended to be cased with a pistol or pair of pistols. They only measure 1 3/8" in diameter and are unique in my experience in having their retaining springs fastened across the capper rather than around the edge of the body.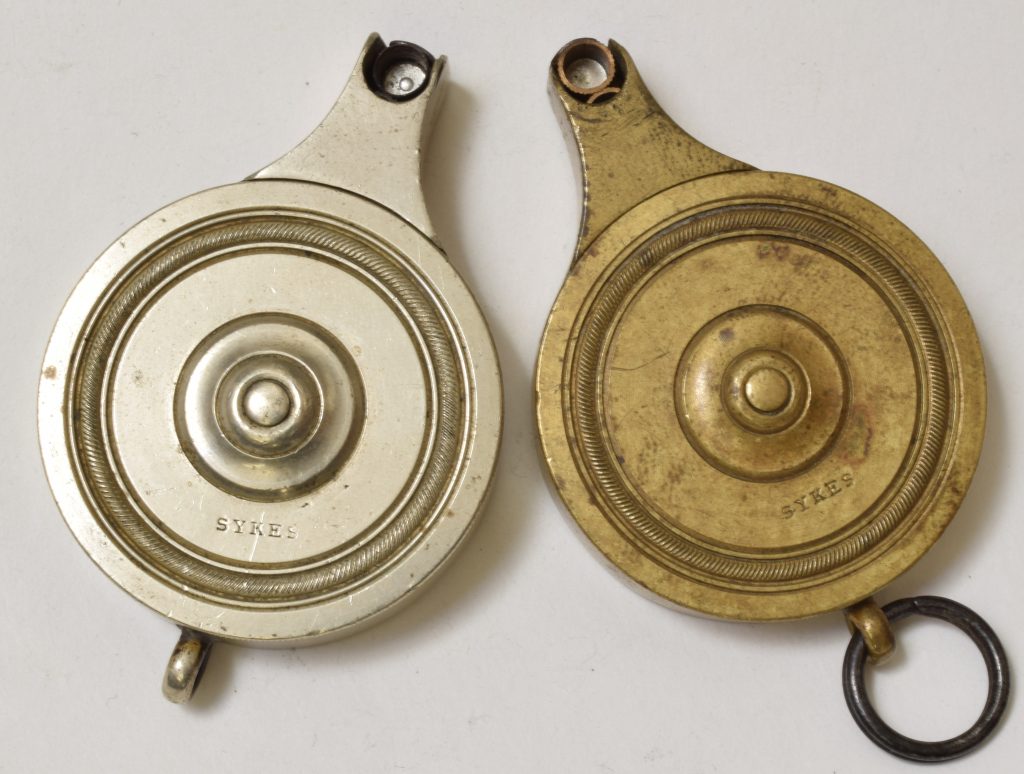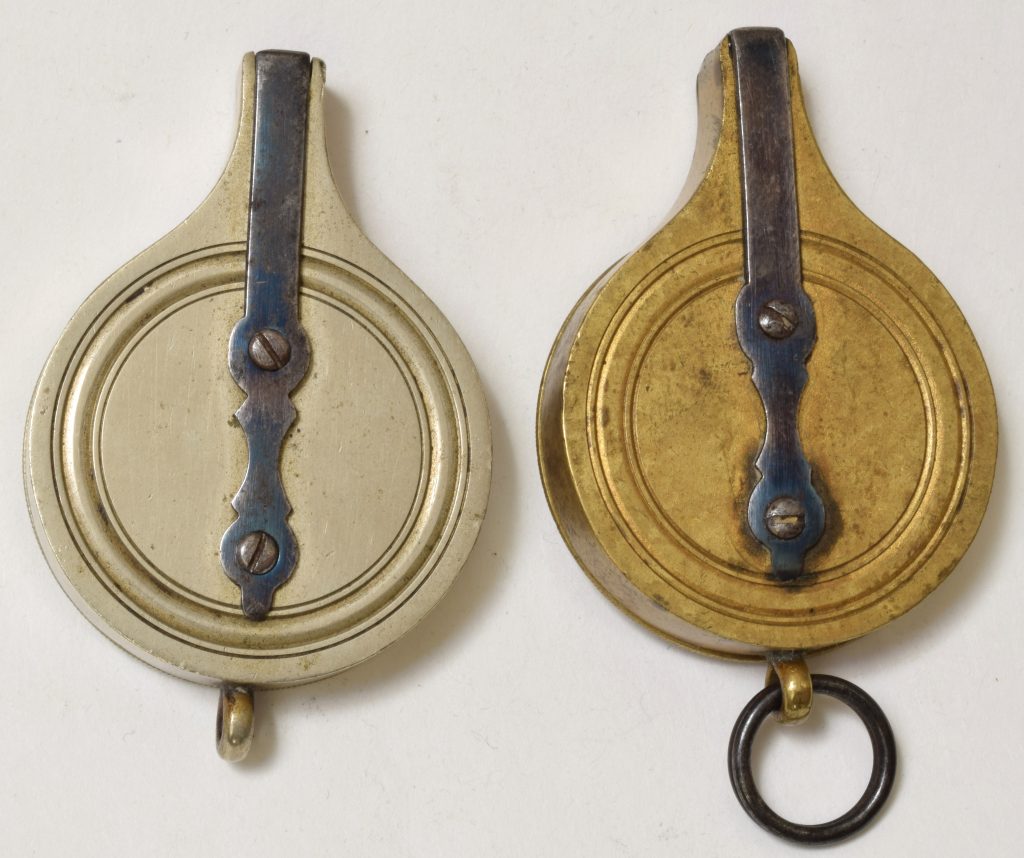 As a final mention in my brief description of the British percussion cap dispenser, I must show you a wooden version. It is the only one I have ever seen. Looks to be made from boxwood and is fully functional. It could be a pattern? Could be Continental?  However definitely worth inclusion in the article just because of its uniqueness!