Does size matter? Well in certain circumstances it becomes crucial such as in determining what size of percussion caps or size of shot the Victorian sportsman needed for a particular gun and should buy. The problem was that, like many things in the 19th century, there was little or no standardisation. There were a number of different manufacturers of percussion caps and other loading components and amazingly each had their own particular numbering system for the different sizes of percussion caps which must have made it dreadfully confusing for the retail gunsmith or ironmonger and shooter.
Three of the major manufacturers of percussion caps in the 19th Century were: Eley Brothers London, Frederick Joyce London and Richard Walker of Birmingham. Whilst seemingly doing nothing to collaborate to achieve a standard they obviously recognised the problem and so had gauges made to be used by or shown to the retailer, be they a gun maker, gunsmith or ironmonger, so the size of caps to fit a particular nipple or gun could be identified.
These nipple size gauges were produced by or for the cap manufacturers in a variety of styles, fitted with dummy nipples and marked with their corresponding cap size alongside each nipple. I don't think these gauges were for workshop use but more likely for either the travelling salesman of the cap manufacturer or to be given to their preferred retailers.

A couple of 19th Century nipple size gauges supplied by Frederick Joyce with dummy nipples to try caps on to determine the correct size.
These gauges are now extremely rare as probably only a relatively small number would have originally been produced and once they became obsolete, because they were made from brass or bronze, many of them would have probably have been scrapped.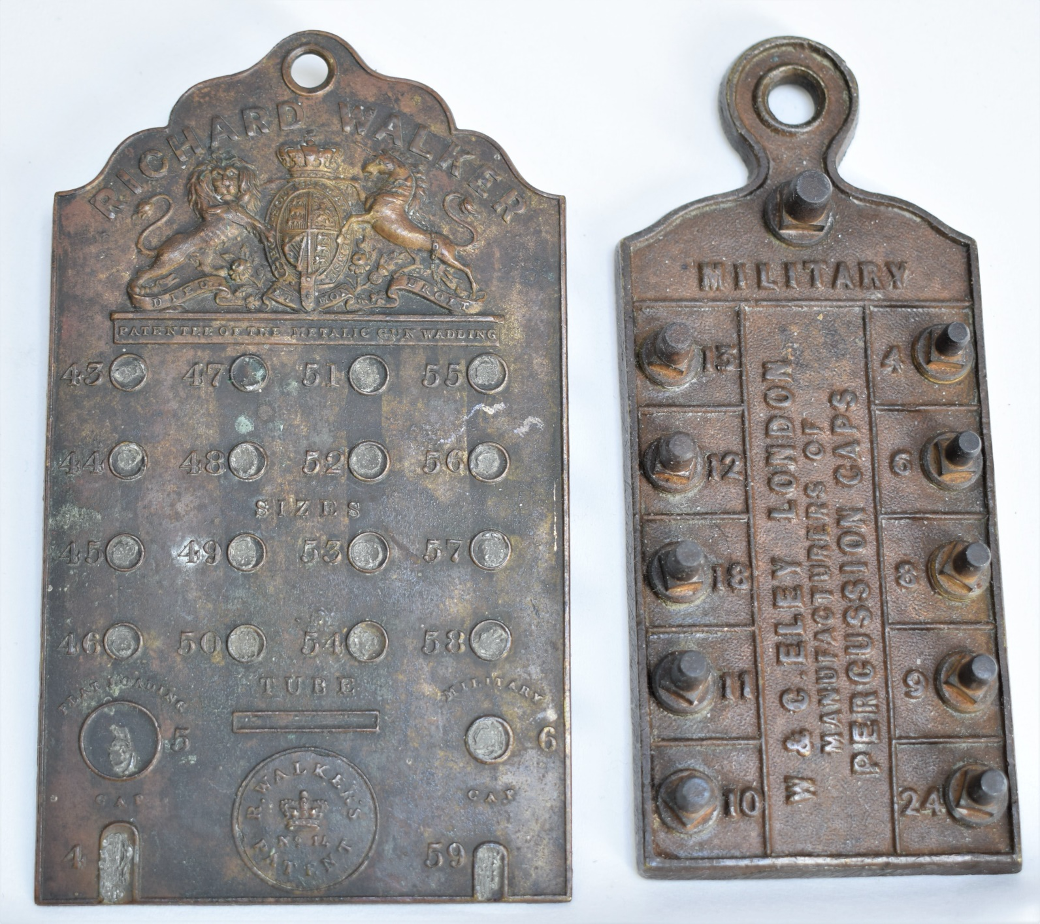 Two more original nipple and cap gauges. The one on the left would originally have had actual blank percussion caps soldered on next to the sizes. There is also an advertisement for R. Walkers metal wadding.
The Eley gauge on the right of the picture has been reproduced, I think in the 1970's, so if you see one have a close look at it to see how sharp the casting is. I seem to recall that the repro gauges were not as well cast and often the dummy nipples were cast in rather than being individual separate components screwed into the base.
The Walker gauge appears to be die stamped rather than cast and shows amazing detail. It also has a space for a tube primer for a tube lock gun. Reference is made to Richard Walker's metallic gun wadding which he patented on 26th June 1834 and consisted of a thin metal disc with three small edge cut outs to allow air to release when ramming down the barrel. This gauge does have appearance of a promotional advertising tool and was probably carried by one of Walkers salesmen. Walkers were established in 1820 and gained a prize medal at the Great Exhibition in 1851.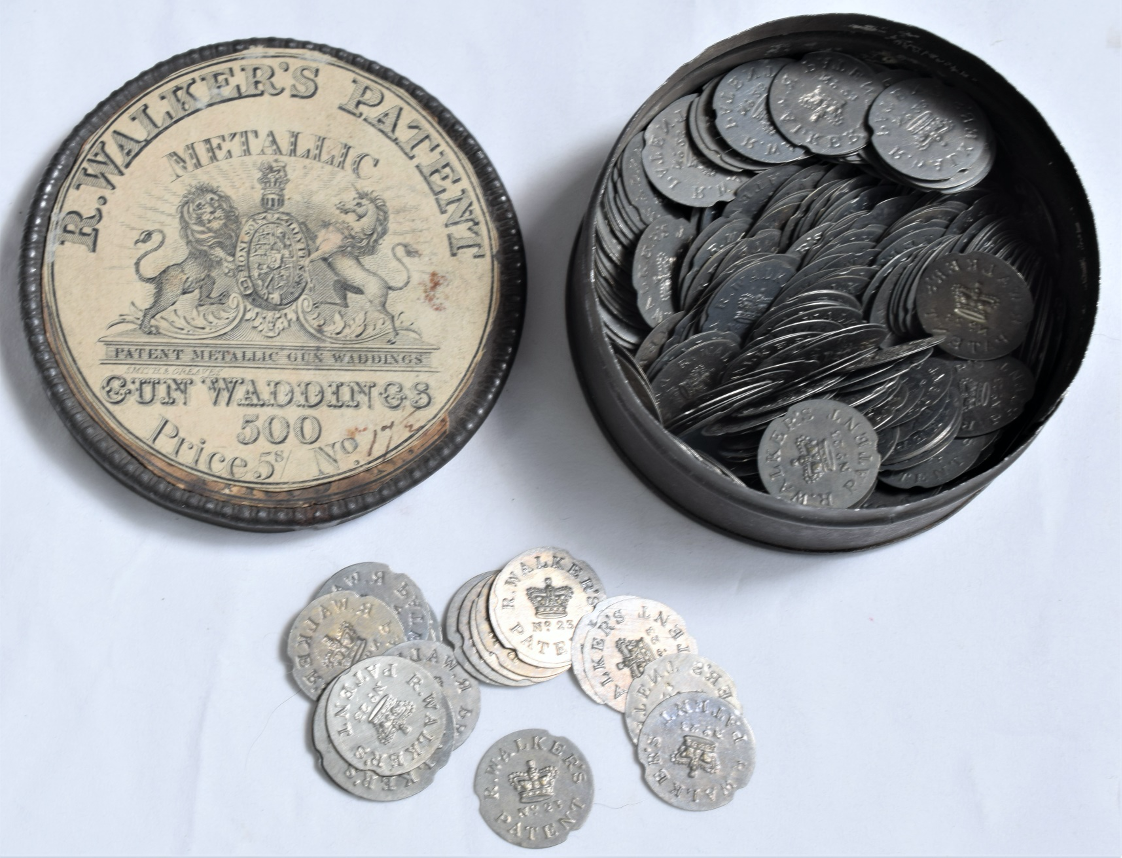 An original tin of Richard Walkers patent metallic wads. They must have been expensive in their day compared to a homemade stamped card or felt wad.
Richard Walkers factory in Birmingham was beset by a number of explosions in the 1850's culminating in a very serious explosion in 1862 which killed 9 people after which the factory was closed.
On a similar theme, Walker & Co. (not the same firm as Richard Walker) who had a shot tower in Lambeth London were also concerned enough to produce a shot gauge showing actual sizes with corresponding shot size numbers and the total number of shot in the weight of an ounce for each size.

Walker & Co. Patent Shot – a beautifully hand engraved gauge also marked with the name and address of the famous London gun makers Wilkinson & Son (later to become The Wilkinson Sword Co. Ltd).
I don't know whether this shot gauge was supplied by Walker to Wilkinson or made by Wilkinson for use on Walkers Patent shot, but it is a high quality and attractive instrument for a fairly basis task.
Moving onto the breech loading era, there was obviously still a need to accurately identify the size of shot pellet by number as Eley Brothers had a small shot gauge produced in nickel silver marked with "Smokeless diamond marvellously quick". This was probably a promotional "giveaway" these are more frequently encountered than the earlier muzzle loading period gauges.


The pictures show both sides of a nickel silver shot gauge used by Eley Brothers to promote their smokeless diamond powder.
These are just a few examples of interesting shooting related gauges I have come across. They are pretty rare but I am sure there are examples out there somewhere in collections or even in boxes of redundant stock from old ironmongers or gunsmiths shops (maybe that last bit was a dream). If anyone reading this article comes across any shooting related gauges I would love to hear about them.